Our employees are our most valuable resource. Community College of Vermont is fortunate to attract and retain exceptionally qualified staff who are dedicated to CCV's mission. We regularly have faculty and staff openings at our twelve academic center locations, the Center for Online Learning, and our administrative offices.
Please Note:
CCV strongly encourages applications from members of ethnic minority groups and other under-represented backgrounds. CCV is an Equal Opportunity Employer, in compliance with ADA requirements, and will make reasonable accommodations for the known disability of an otherwise qualified applicant.
Successful candidates will be required to submit official transcripts from all degree granting institutions and must complete a six month probationary period.
All new full-time employees and certain part-time employees will be subject to a fingerprint-supported criminal background check. Any offer of employment is contingent upon the satisfactory results of this check.
CCV only accepts applications for positions that are currently available. In order to be considered, please submit a complete application package, which includes a cover letter, résumé/CV, and employment application. Please apply individually for each position in which you are interested.
CCV is proud to have signed onto the Vermont Equal Pay compact. By signing on, we are reaffirming our commitment to a diverse workforce and continue to serve as a model for other organizations in the state. The goal of the Compact is to help make Vermont one of the best states for working women by closing the gender wage gap, removing barriers to women's advancement, and improving economic security for women.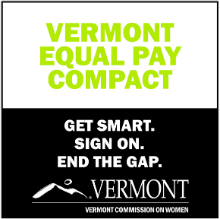 We are an EOE/ADA compliant employer; auxiliary aids and services are available upon request to individuals with disabilities.